Dan Jaworski: Alzheimer's Outlier and Advocate
September 15, 2021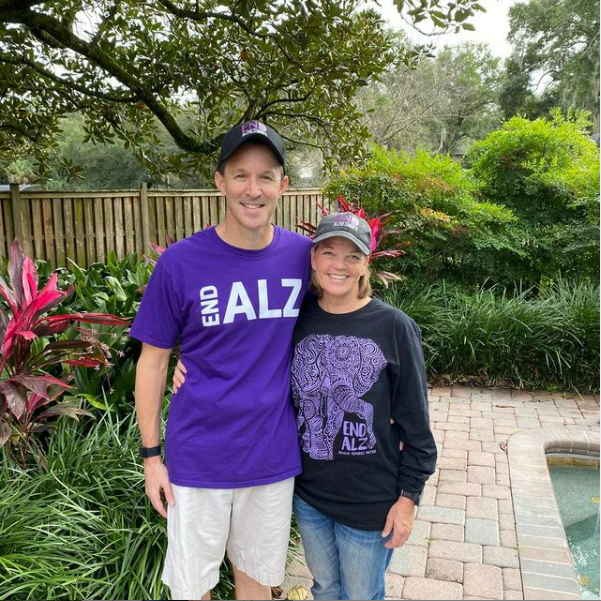 September is World Alzheimer's Month, and there are many people in the Alzheimer's and dementia community making incredible contributions to awareness, advocacy, caregiving, prevention, and brain health in-general.  We are honored to know some of them personally, and there are others we have yet to meet, and for all them, we are very grateful for the work they are doing.  To celebrate these inspiring individuals, we are launching a new series of articles highlighting their stories.   
In today's article, we honor Dan Jaworski, a true Alzheimer's "outlier."  There's a saying in the Alzheimer's community that the first survivor of the disease is out there yet to be found, and each day we get closer to that discovery.  To that, we say:  Meet Dan Jaworski.  The search may be over. 
Diagnosis and Taking Action
A few years ago, Dan and his family noticed changes in his memory.  Things like remembering where the car was parked and asking the same questions repeatedly became common occurrences, and his family took notice.  Then one day, driving to a nearby school where he had driven hundreds of times before, he couldn't remember how to get there.  Dan knew it was time to see a doctor.  In October 2019, Dan was diagnosed with mild cognitive impairment (MCI) consistent with Alzheimer's-type dementia.  For many people, MCI is a common "stepping stone" to Alzheimer's, and it appeared Dan's MCI was heading in that direction.  He was 54. 
His reaction was characteristically upbeat and determined:  Create a bucket list.  Then call IRONMAN to find out how he could race in it. 
For a long time, Dan's dream was to qualify for the IRONMAN World Championship in Kona, Hawaii, where top athletes combine swimming, biking and running for a total distance of 140.6 miles.  He hoped to qualify at some point in the future, perhaps in his 70's or 80's.  He jokingly thought that perhaps he could stay in shape long enough to qualify in senior age groups because he'd be the only one left.  Though, after being diagnosed, he knew he had to seize the day.  Carpe Diem became his motto.  Thankfully, IRONMAN approved his application to compete at Kona.  And, with that, he began his Outlier journey. 
Dan knew he could use his diagnosis and his IRONMAN training to help others facing a similar diagnosis (either themselves or in a loved one).  So, in anticipation of the race, he started fundraising and connecting with others in the Alzheimer's community.  Together with his wife, they have raised over $70,000 for the Alzheimer's Association through its Longest Day fundraiser.  Most touchingly, to honor the people who have impacted his life along the way and many others struggling with the disease, Dan is dedicating each mile of the IRONMAN to 140 different individuals.  And when he finishes the race, he plans to recite their names and their stories in celebration.  You can see the names, faces, and stories of these special people on his Instagram account.
He is dedicating the last mile to his wife Julie.  His "everything." 
Becoming the Alzheimer's Outlier
We first connected with Dan through Mind What Matters (MWM), a wonderful nonprofit that provides caregiver relief grants to people taking care of a loved one with dementia or Alzheimer's disease.   Dan is on MWM's board of directors, and he gave the keynote speech at their fundraising event a few months back.  The big takeaways: 
You can't choose what happens to you, but you can choose how you respond.  

 

There's no day like today!  Every day is a gift.  

 
Dan recently faced another obstacle: the IRONMAN race that was scheduled for October 2021 was postponed (again) until 2022 due to Covid-19.  With grace, he carried on with his training and is now setting his sights on racing in October 2022.  After all, as he said recently "No matter what hurdles you face in life, you can choose to go long and strong or give up".   
Giving-up doesn't seem to be an option for Dan.  Although he can't change his diagnosis, he is doing everything he can to fight it.  He keeps fit by exercising daily, strictly following the Mediterranean diet (he refuses to eat a hot dog or pizza ever again), prioritizes sleep and engages his brain in any way he can.  He says "I keep myself going by keeping good habits, and by doing the good small things over and over.  I'm hoping my consistency keeps me at my best self for as long as possible".  What great advice that can apply to all of us.   
It's the daily decisions that make the biggest cumulative impact – enough to make him an Alzheimer's Outlier. 
If you want to follow Dan's journey, follow him on Instagram @dan_jaworski, and donate to his Alzheimer's Association fundraiser.
Photo courtesy of Dan Jaworski: Dan Jaworski with his wife, Julie.