Women's Brain Health Recent Research Breakthroughs
October 25, 2023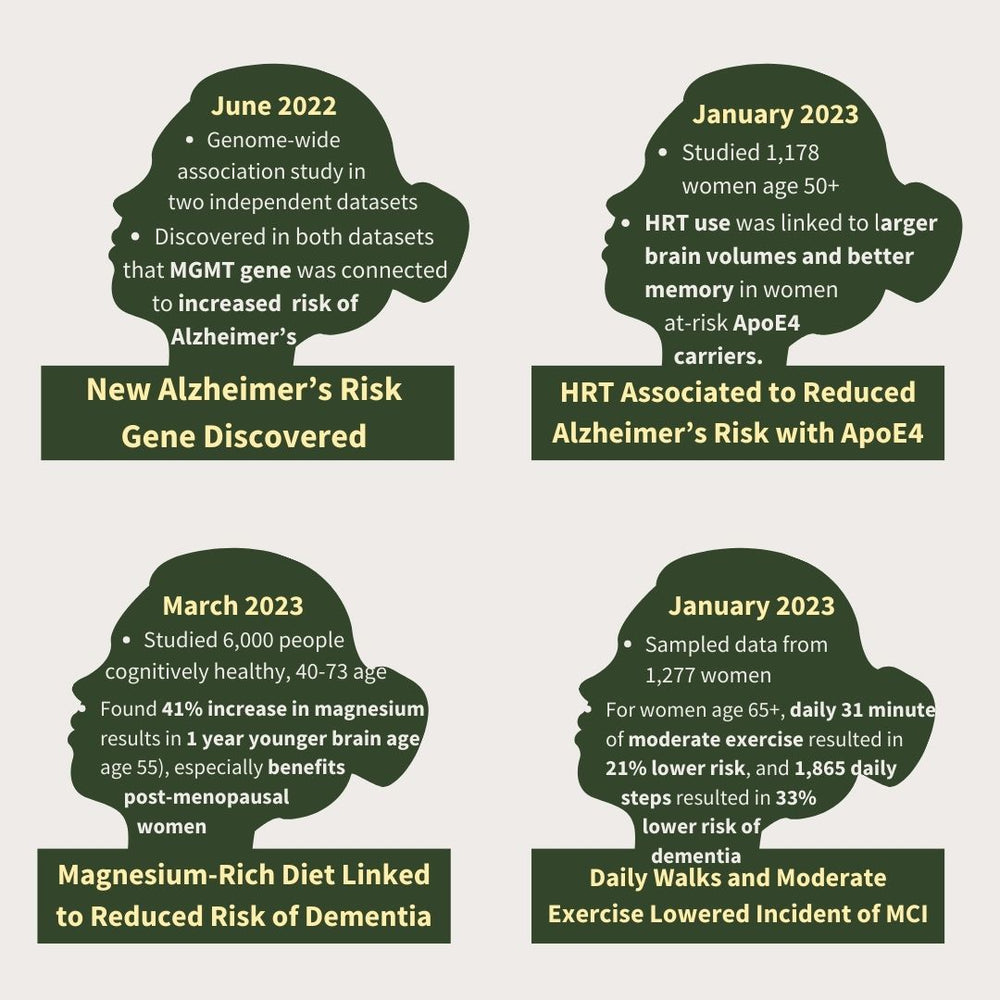 In the past year, we've witnessed remarkable progress in the journey to better women's brain health and identify factors influencing their risk of dementia and Alzheimer's.  Our path of discovery has led us to some remarkable studies that stand out as beacons of knowledge and hope.  These findings hold the power to empower women with insights into taking control of their brain health while shedding light on factors that might elevate their risk for poor brain health.  Read on to explore these impactful studies, unraveling the secrets to a healthier, more resilient female brain. 
In June 2022, an exciting development in Alzheimer's research emerged as a new risk gene was uncovered.  This significant finding was the result of an extensive genome-wide association study conducted across two independent datasets.  The first approach explored dementia within a Hutterite European extended family, known for their isolated culture and relatively small gene pool, with the findings revealing a noteworthy trend - Alzheimer's predominantly affected women in this community.  The second approach, influenced by earlier research connecting Alzheimer's and breast cancer, delved into genetic data from 10,340 women without the APOE ε4 allele, a known Alzheimer's risk factor.  In both datasets, the MGMT gene exhibited a clear association with Alzheimer's development.  The study pinpointed the MGMT gene, responsible for encoding the DNA repair gene O6-methylguanine-DNA methyltransferase, as being strongly linked to an elevated risk of Alzheimer's disease.1 
In January 2023, an intriguing discovery with research, which focused on a cohort of 1,178 women aged 50 and older, revealed a compelling link between Hormone Replacement Therapy (HRT) and reduced Alzheimer's risk, particularly among individuals carrying the ApoE4 gene variant.  Among women at-risk due to ApoE4, HRT use was associated with larger brain volumes and improved memory.  The cognitive benefits of HRT were even more pronounced in ApoE4 carriers, with this subgroup displaying better performance in delayed memory tasks.  Intriguingly, the research also highlighted the advantage of initiating HRT earlier, as it was linked to increased hippocampus volume, a notable effect observed exclusively in ApoE4 carriers.2  To learn more about ApoE4 and its connection to Alzheimer's disease, visit here.  
In March 2023, a fascinating study involving 6,000 cognitively healthy individuals aged 40 to 73 focused on the connection between a magnesium-rich diet and a reduced risk of dementia and larger brain volumes.  A 41% increase in magnesium intake was associated with less age-related brain shrinkage, promising improved cognitive function.  Individuals who consumed over 550 milligrams as compared to the normal 350 milligrams of magnesium daily appeared to have a one-year younger brain age by the time they reached 55.  The neuroprotective effects of dietary magnesium were particularly prominent in women, especially post-menopausal women, possibly due to magnesium's anti-inflammatory properties.3   To learn more about magnesium and its many benefits, visit here.  
In January 2023, an enlightening study illuminated the impact of daily walks and moderate exercise in reducing the incidence of Mild Cognitive Impairment (MCI) among women.  The research, drawing upon data from 1,277 women, aged 65 and older, demonstrated that each additional 31 minutes of moderate-to-vigorous physical activity per day was associated with a significant 21% lower risk of MCI or dementia.  Furthermore, every extra 1,865 daily steps taken resulted in an impressive 33% lower risk of these cognitive conditions.4  There are remarkable cognitive benefits of even simple acts like taking a brisk daily walk, which can do tremendous things for risk reduction and overall brain health for women. 
While there is research that highlights that women may be at a higher risk for Alzheimer's than men, the good news is that there are powerful tools at their disposal to mitigate this risk and regain control of their brain health.  One of these essential tools is nutrition, and the Mediterranean diet stands out as a powerhouse for brain health.  Our brain health supplement RELEVATE was designed from the nutrients found in the Mediterranean diet.  It offers a convenient way to fill in the nutritional gaps, providing 17 essential neuroprotective nutrients, including magnesium, omega-3's, and more.  It's designed to complement the wealth of knowledge and recommendations emerging from studies like the ones we've explored.  Learn more about RELEVATE by visiting here.  
---
References
Chung, J., Das, A., et al. (2023). Genome-wide association and multi-omics studies identify MGMT as a novel risk gene for Alzheimer's disease among women. Alzheimer's & Dementia, 19(3), 896–908.

https://doi.org/10.1002/ALZ.12719

 

Saleh, R. N. M., Hornberger, M., Ritchie, C. W., & Minihane, A. M. (2023). Hormone replacement therapy is associated with improved cognition and larger brain volumes in at-risk APOE4 women: results from the European Prevention of Alzheimer's Disease (EPAD) cohort. Alzheimer's Research and Therapy, 15(1), 1–13.

https://doi.org/10.1186/S13195-022-01121-5/FIGURES/3

 

Alateeq, K., Walsh, E.I. & Cherbuin, N. Dietary magnesium intake is related to larger brain volumes and lower white matter lesions with notable sex differences. Eur J Nutr 62, 2039–2051 (2023). https://doi.org/10.1007/s00394-023-03123-x

 

Nguyen, S., LaCroix, A. Z., Hayden, K. M., Di, C., Palta, P., Stefanick, M. L., Manson, J. A. E., Rapp, S. R., LaMonte, M. J., & Bellettiere, J. (2023). Accelerometer-measured physical activity and sitting with incident mild cognitive impairment or probable dementia among older women. Alzheimer's & Dementia, 19(7), 3041–3054. https://doi.org/10.1002/ALZ.12908