MIND Diet Snack Board for Your Family Game Night
January 27, 2023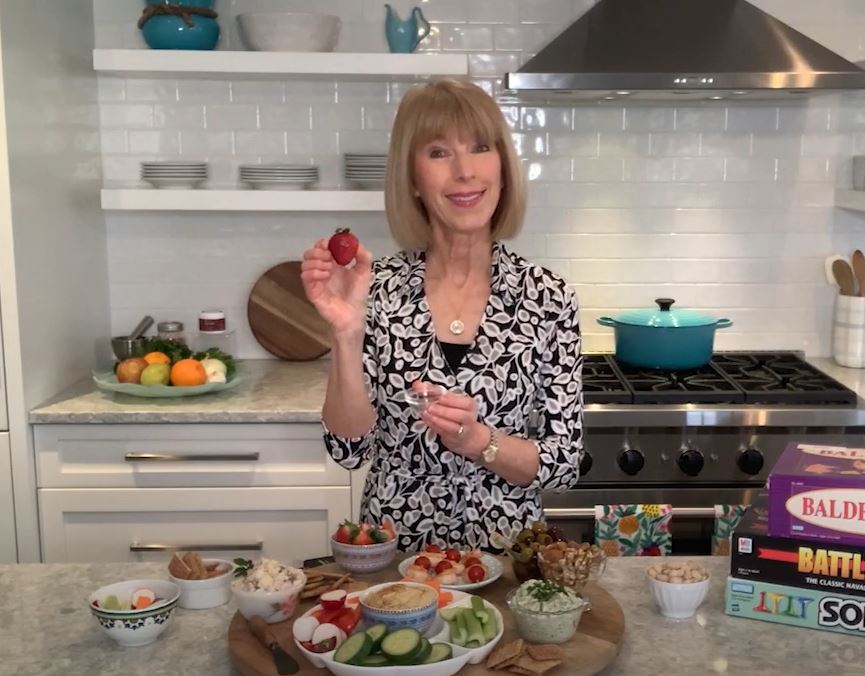 What should you serve for family game night?  A snack board, of course!  And, if you also want to make sure your family gets the brain nutrition it needs, then we invite you to enjoy this fun and interactive snack board inspired by the elements of the MIND diet.   MIND stands for Mediterranean-DASH Intervention for Neurodegenerative Delay, and it was developed based on groundbreaking research findings linked to a 53% reduction in risk of developing Alzheimer's disease, in addition to other health benefits.  This diet emphasizes minimally processed foods like leafy green vegetables, berries and seafood, packed with nutrients that benefit lifelong brain health.   
In this video, Liz Weiss, MS, RDN, shares how to build your own MIND Diet Snack Board for your next family game night with the food groups that are most important for brain health.  The MIND Diet highlights 10 food groups, and 9 of them are represented in this snack board (red wine is also part of the MIND Diet).  
When creating your MIND Diet Snack board, consider incorporating these nine food groups:
Green Leafy Vegetables: Any snack that includes kale, spinach, or collard greens contains magnesium, lutein and zeaxanthin. To get you started, how about a spinach and yogurt dip?! 
Other Vegetables: Vegetables are great for dunking into dips, and bell peppers, carrots, cucumbers, and radishes will also add some color to your snack board.  Celery, broccoli florets and asparagus are also great options, as they are crunchy, colorful and brain-healthy. 
Berries: Berries are a MIND diet superstar containing anthocyanins, which are pigments that give berries their beautiful, vibrant color.  In this board, we include strawberries, but blueberries, raspberries and blackberries are also a yummy choice. 
Nuts: Include a cup of mixed nuts like walnuts, almonds, pecans, and cashews to incorporate healthy fats and vitamin E into your snack board. 
Beans: Beans are inexpensive and versatile and are also a great source of fiber and vitamin E. Hummus is an obvious choice for adding beans to your snack board as it's traditionally made from chickpeas and provides another dipping option for your vegetables.    
Whole Grains: 100% whole grain crackers will add crunch and variety to your snack board.  When shopping for crackers, read labels carefully and make sure the first ingredient is "whole grain".  Crackers that contain oats, quinoa or brown rice are all excellent choices that are rich in fiber and nutrients that protect our brains from aging.   
Fish and Seafood: Fish and seafood may be a challenge for some families, although omega –3 fats are crucial for a brain healthy diet. In this snack board we've included shrimp kebabs with garlic and olive oil, but smoked salmon is a nice alternative.   
Lean Poultry: Lean meats like chicken and turkey contain vitamin B3, which protects against Alzheimer's disease.  In this snack board, Liz creates a sweet, crunchy chicken salad combining leftover rotisserie chicken, diced apples, celery, chopped walnuts and a mix of light mayo and plain greek yogurt.  A perfect topping for whole grain crackers.  For pickier eaters, opt for the simplicity of roasted chicken breast, sliced. 
Extra Virgin Olive Oil: Olive oil contains natural plant compounds that promote brain health. Drizzle some on your hummus, and include a bowl of olives to round out this tasty snack.  
Playing games is a great way to exercise your brain, and this snack board will also be sure to feed your brain.  It's easy to create your own MIND Diet Snack Board using the above ideas as inspiration, and your kids (or grandkids) will love the quality time together.  We can't guarantee you'll win every game, but it just might give you the extra edge you need to beat your family at Battleship or Monopoly!     
Created by Liz Weiss, MS, RDN
Liz is a registered dietitian nutritionist and has been passionate about healthy food and family nutrition for over 20 years. NeuroReserve is very pleased to partner with Liz to develop brain healthy recipes for 
Brain Table
. Liz is the founder of 
Liz's Healthy Table
, an online platform providing countless resources centered on real food and family friendly recipes. Liz develops new innovative healthy recipes, hosts a bi-weekly foodie focused 
podcast
and makes cooking videos that are sure to inspire the everyday cook. She also teaches hands-on and virtual cooking classes and nutrition basics to school children in and around Boston through a program called Kids Cooking Green. Liz's mission is to help families of all ages and stripes discover the joy of wholesome and delicious food.