Celebrating the Brain Health Kitchen Cookbook and Annie Fenn, M.D.
March 06, 2023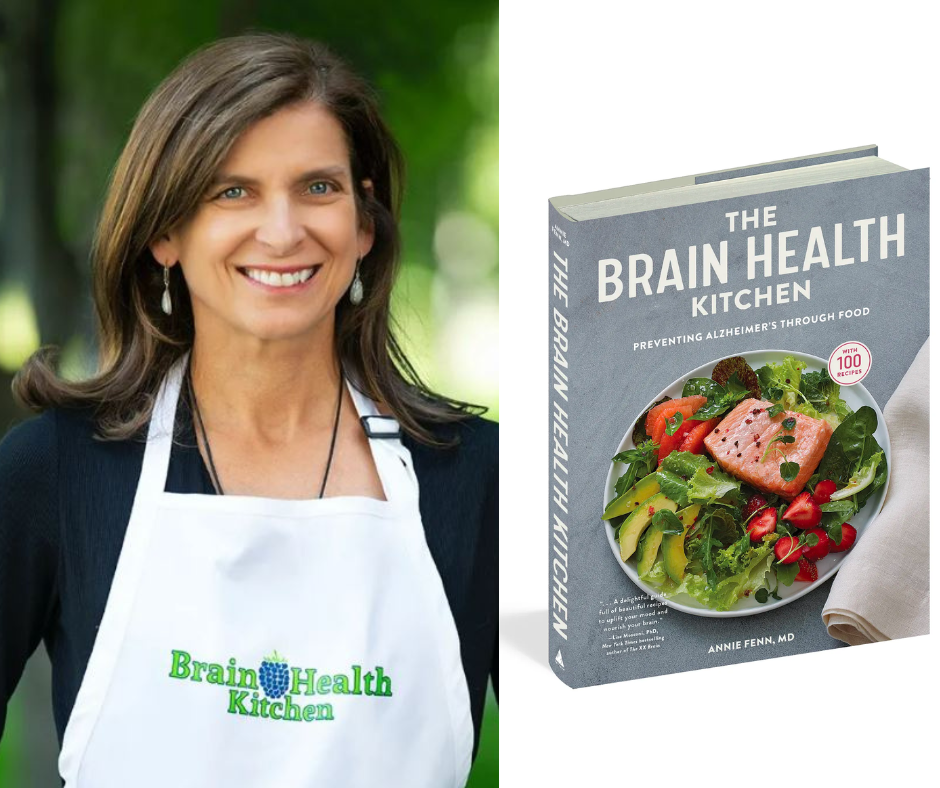 The foods we eat have a powerful impact on our memory, cognitive performance and risk of Alzheimer's and dementia. When it comes to brain-healthy eating, no one does it better than Dr. Annie Fenn. As a physician, chef and brain healthy eating advocate, Annie is making incredible contributions to prevention and nutrition by helping everyday cooks find the joy of brain healthy eating at home, and we are honored to celebrate the recent publication of Annie's first cookbook in this article!  
Annie is founder of Brain Health Kitchen, speaking and instructing internationally on modern techniques to produce delicious and innovative brain-healthy recipes. She is skilled at breaking down the science and latest research about brain health and nutrition and is a true visionary in the culinary field. In her first cookbook, The Brain Health Kitchen: Preventing Alzheimer's Through Food, Annie includes 100 delicious and easy to make recipes that are filled with brain nourishing ingredients. Much more than a cookbook, it's a guide to taking care of your brain, full of scientific evidence and practical tips to equip you with the tools you need to prepare nutrient-rich meals that you and your family will love. Studies repeatedly show that ten food groups are especially neuroprotective, and the pages of this book are filled with beautifully photographed recipes from each group, plus so much more.  
Annie explains that "food choices sit at the core of the Alzheimer's epidemic – and at the heart of the solution. I've written this book to help you take care of your brain while still eating delicious food". We are honored to have Dr. Annie Fenn as one of our medical advisors at NeuroReserve, and thankful for her contributions to prevention and brain healthy cooking. 
Dive into brain-boosting habits with our Nutrition and Cooking Starter Pack, a perfect way to start (or reinforce) your lifelong brain health journey. Featuring the new cookbook by renowned brain health chef and physician, Annie Fenn, M.D., this bundle offers an inviting gateway to delicious, practical, and innovative brain-strengthening recipes and nutritional support. Learn more about this offer by visiting here. 
To learn more about Annie's book, visit her website here. Interested in additional resources from Annie? Sign up for her wonderful newsletter here, or check out some of her featured recipes on Brain Table, like this popular pumpkin blueberry muffin. We encourage you to follow Annie and order her book – it's truly a masterpiece and labor of love!