Long COVID One-Day Meal Plan: Mediterranean Diet
March 20, 2023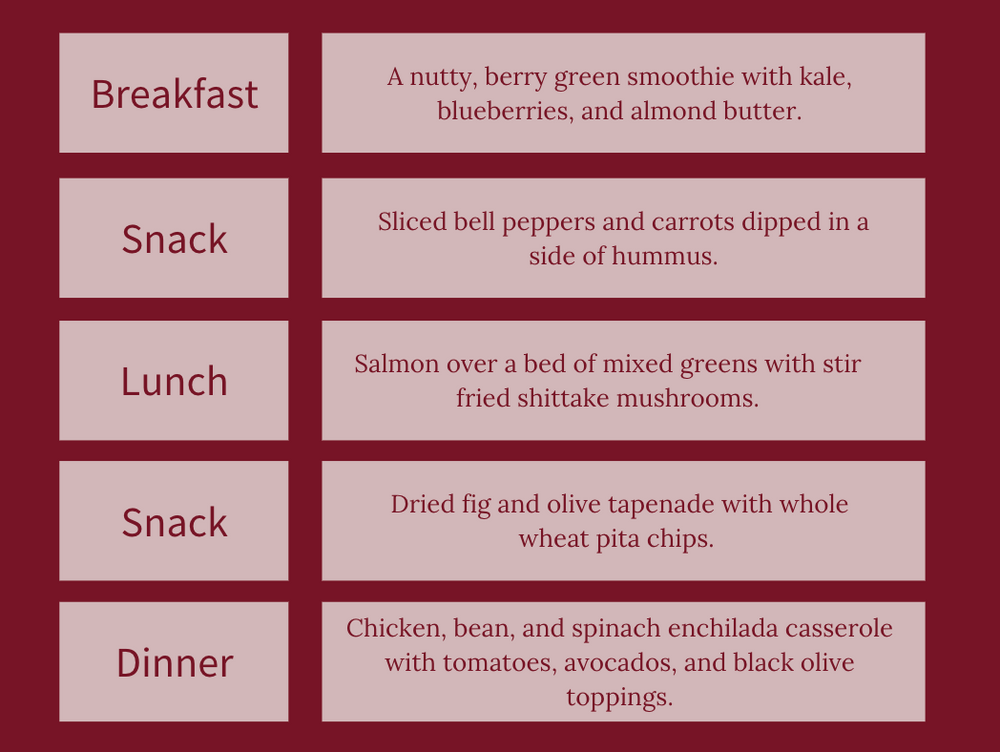 Recovering from long COVID can be a long and challenging journey, but proper nutrition can make a big difference. This one-day Mediterranean long COVID meal plan includes a variety of nutrient-dense foods that have been shown to help with long COVID symptoms, such as fatigue and brain fog. When considering nutrition for long COVID, keep in-mind that science is pointing towards nutrients with anti-inflammatory, antioxidant, and blood flow properties. 1 If you're unsure that what you're experiencing is long COVID, read this article  to learn about the causes of long COVID, or visit here to understand how long COVID affects your cognitive health.  
When recovering from long COVID, it's important to fuel your body with the right nutrients. 
Sample 

Long-COVID Mediterranean One-Day Meal Plan 

 
Breakfast: A nutty, berry green smoothie with kale, blueberries, and almond butter.  
Flavonoids from kale and blueberries can interfere with the coronavirus replication cycle, making them antivirals.2 Omega-3 fats from the almond butter are well-known for their anti-inflammatory properties and are also being clinically tested for their effect on long COVID.3 
Snack: Sliced bell peppers and carrots dipped in a side of hummus. 
Lunch: Salmon over a bed of mixed greens with stir fried shittake mushrooms. 
Vitamin D is widely researched as a potential prophylactic and treatment for both acute and long COVID, although most of the population is deficient in Vitamin D (which can be found in fish like salmon). 4 Zinc and selenium from shittake mushrooms both play important immunity roles as antioxidant and anti-inflammatorys.  
Snack: Dried fig and olive tapenade with whole wheat pita chips. 
Dinner: Chicken, bean, and spinach enchilada casserole with tomatoes, avocados, and black olive toppings. 
Vitamin B3 from chicken is essential for maintaining levels of NAD+, which reduces the inflammatory response of Long-COVID.5
With the right nutrients, you can support your long COVID recovery and start feeling like yourself again. 
Ready to take control of your brain health? The MIND diet can help! RELEVATE is our nutritional supplement and it helps people achieve the nutritional profile of the MIND diet with 17 essential nutrients. It closes the most common nutritional gaps between those diets and what most people eat. Learn more about RELEVATE here. 
 And take action for your brain health today. 
---
References
Couzin-Frankel, J. Clues to Long COVID. Science (1979) 376, 1261–1265 (2022)

 

Russo, M., Moccia, S., Spagnuolo, C., Tedesco, I. & Russo, G. L. Roles of flavonoids against coronavirus infection. Chem Biol Interact 328, 109211 (2020). 

 

Koc, H. C., Xiao, J., Liu, W., Li, Y. & Chen, G. Long COVID and its Management. International Journal of Biological Sciences vol. 18 4768–4780 Preprint at https://doi.org/10.7150/ijbs.75056 (2022).

 

Tosato, M. et al. Nutraceuticals and Dietary Supplements for Older Adults with Long COVID-19. Clinics in Geriatric Medicine vol. 38 565–591 Preprint at https://doi.org/10.1016/j.cger.2022.04.004 (2022). 

 

Picone, P. et al. Neurological Consequences, Mental Health, Physical Care, and Appropriate Nutrition in Long-COVID-19. Cell Mol Neurobiol (2022) doi:10.1007/s10571-022-01281-w.