Long-COVID One-Day Meal Plan: MIND-MeDi Diet
June 28, 2023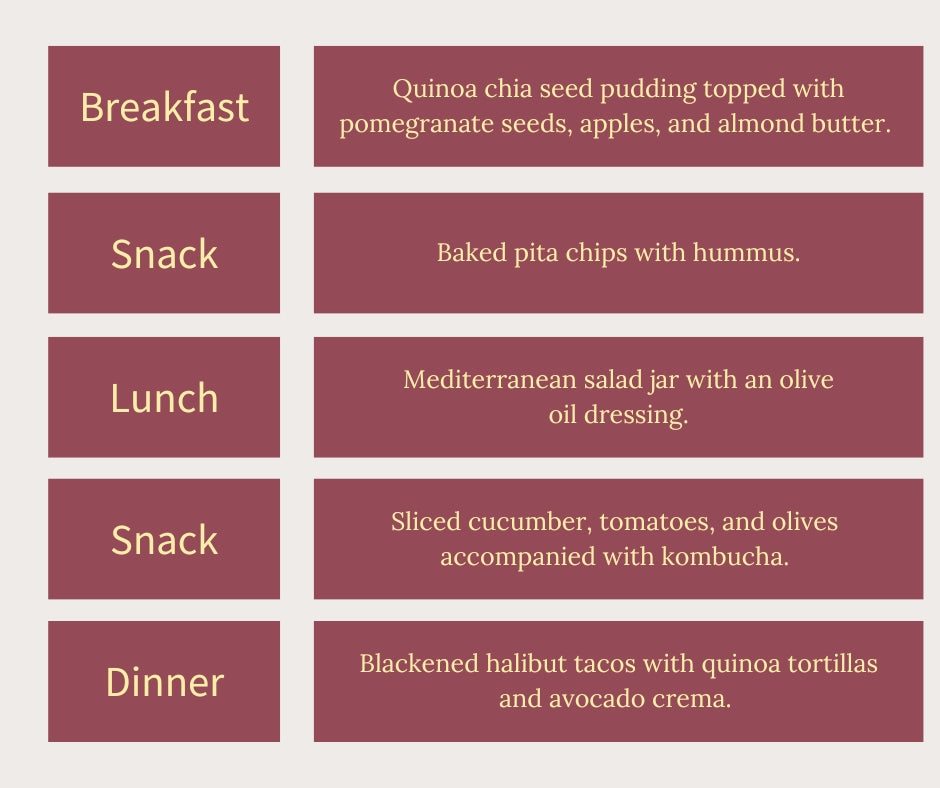 With the prevalence of long COVID fatigue continuously increasing and cases persistently emerging, the journey to recovery can be arduous and protracted.  However, the impact of proper nutrition should not be overlooked, as it can make a significant difference.  In order to combat this persistent fatigue and other symptoms associated with long COVID, such as brain fog, it is advisable incorporate a variety of nutrient-dense foods that prioritize nutrients with anti-inflammatory, antioxidant, and blood flow enhancing properties.1  A potent way to deliver these nutrients against long COVID is to adopt the Mediterranean (MeDi) or MIND diets.  If you're unsure that what you're experiencing is long COVID, read  this article  to learn about the causes of long COVID, or visit here to understand how long COVID affects your cognitive health. 
When aiming to alleviate symptoms related to long COVID, providing your body with the essential nutrients it requires becomes paramount in supporting the process.  Below is a sample one-day menu tailored to long COVID, to provide you with a starting point.   By selecting options from the choices provided below, you can replace certain snacks or meals with nutrient-rich alternatives that promote brain health, which is particularly beneficial for long COVID recovery. 
Sample 

Long-COVID MIND-MeDi One-Day Meal Plan 
Breakfast: Quinoa chia seed pudding topped with pomegranate seeds, apples, and almond butter. 
Chia seed and chopped nuts contain a healthy serving of omega-3 fatty acids, selenium, and magnesium.  Selenium, in particular, plays a crucial role in antioxidant processes, which can help mitigate tissue damage associated with COVID and potentially reduce the risk of long COVID symptoms.2  Apples are great prebiotic sources, which have been shown to increase immune defense.2,3  Pomegranate seeds are full of antioxidants.  Almond butter topping introduces a source of good omega-3 fatty acids, which have been associated with anti-inflammatory properties and have shown potential in supporting immune health and reducing inflammation in the body.4 
Snack: Baked pita chips with hummus 
Lunch: Mediterranean salad jar with an olive oil dressing.
This nutrient-rich salad brimming with plant-based flavonoids like quercetin, kaempferol, luteolin, and epigallocatechin.  These bioactive compounds, found in colorful vegetables, offer antioxidant, anti-inflammatory, and potential antiviral benefits against coronaviruses.5 
Snack: Sliced cucumber, tomatoes, and olives accompanied with kombucha. 
These sliced vegetables also provide quercetin kaempferol, luteolin, and epigallocatechin.  The kombucha is a probiotic, which releases probiotic metabolites that can enhance gut immune defense.2,3
Dinner: Blackened halibut tacos with quinoa tortillas and avocado crema.  
The presence of Vitamin D3 in the fish possesses antithrombotic properties.  Considering the prevalence of vitamin D deficiency, extensive research is being conducted to explore its potential as a prophylactic and treatment for both acute and long COVID.5 
Even with our best efforts, most of us do not get the daily nutrients we need for long-term brain health.  If you want to adopt a healthy diet like MeDi and MIND and increase your intake of anti-inflammatory, antioxidant, and blood flow-promoting nutrients, try RELEVATE to support that effort.
RELEVATE is a nutritional supplement designed to help people achieve the MeDi and MIND diets. It closes the most common nutritional gaps between those diets and what most people eat.  Learn more about RELEVATE here. 
 And take action for your brain health today. 
---
References
Couzin-Frankel, J. Clues to Long COVID. Science (1979) 376, 1261–1265 (2022)
Tosato, M. et al. Nutraceuticals and Dietary Supplements for Older Adults with Long COVID-19. Clinics in Geriatric Medicine vol. 38 565–591 Preprint at https://doi.org/10.1016/j.cger.2022.04.004 (2022).
Crook, H., Raza, S., Nowell, J., Young, M. & Edison, P. Long covid - Mechanisms, risk factors, and management. The BMJ vol. 374 Preprint at https://doi.org/10.1136/bmj.n1648 (2021).
Tsoupras, A., Lordan, R. & Zabetakis, I. Thrombosis and COVID-19: The Potential Role of Nutrition. Front Nutr 7, (2020).
Koc, H. C., Xiao, J., Liu, W., Li, Y. & Chen, G. Long COVID and its Management. International Journal of Biological Sciences vol. 18 4768–4780 Preprint at https://doi.org/10.7150/ijbs.75056 (2022).