Brain-Healthy Valentine's Dinner Meal Plan: MIND Diet
February 06, 2023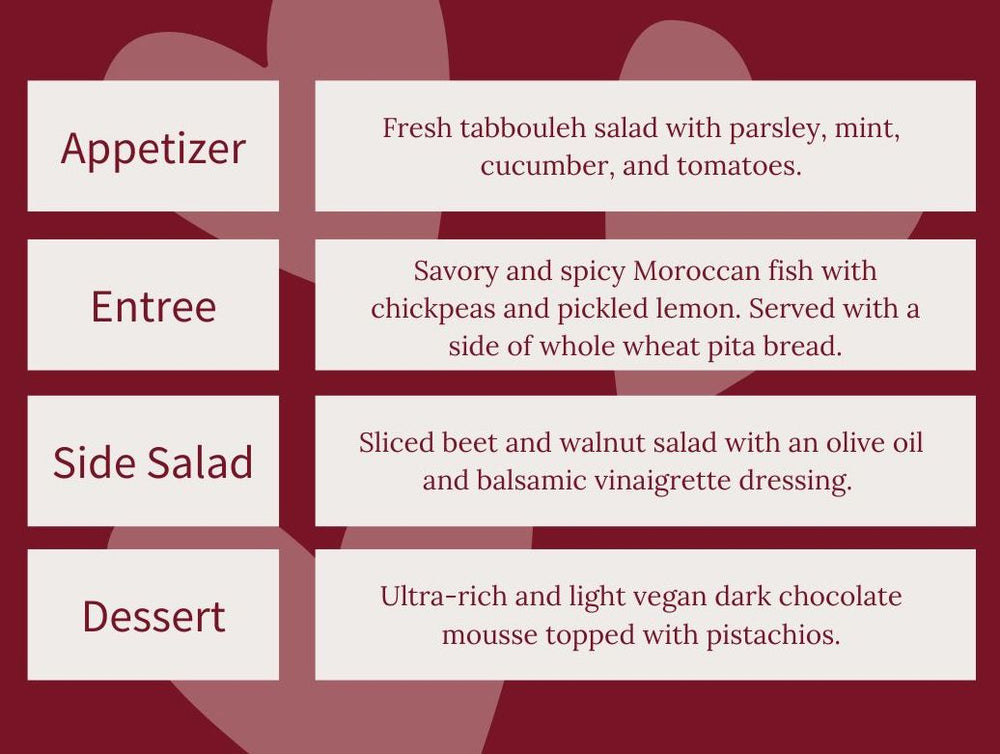 Are you planning a romantic dinner at home this Valentine's Day? A home-cooked meal is a perfect way to show someone your love. Whether you're planning to cook a special dinner for your partner or are having a potluck with your favorite "galantines", you can enjoy the evening and strengthen your brain at the same time. Numerous studies have shown that what we eat can play a role in preventing or delaying the onset of age-related brain decline.1 We invite you to enjoy and be inspired by our MIND Valentine's Day Dinner Sample Plan. 
Sample Valentine's Day

MIND

Dinner Plan for Brain Healthy Eating

 
Appetizer: Fresh tabbouleh salad with parsley, mint, cucumber, and tomatoes. This recipe by the Mediterranean dish is quick and refreshing.  
Entree: Savory and spicy Moroccan fish with chickpeas and pickled lemon. Served with a side of whole wheat pita bread.
Long-term consumption of adequate DHA is linked to improved memory, improved learning ability and reduced rates of cognitive decline. To reap the brain benefits of DHA, you need to maintain a consistent intake of DHA-rich foods including fish like salmon and tuna.2   
Side Salad: Sliced beet and walnut salad with an olive oil and balsamic vinaigrette dressing. Try this recipe for a delicious beet salad, which are rich in fiber, iron, vitamin A, as well as polyphenols which act as antioxidants to protect your brain cells from damage. 
Walnuts are the top choice for the brain when it comes to nuts. They are packed with a high concentration of DHA and antioxidants, which have been demonstrated to significantly improve memory.3   
Dessert: Ultra-rich and light vegan dark chocolate mousse topped with pistachios. 
Dark chocolate is a great source of important brain healthy nutrients like magnesium, which supports memory and mood, and flavonoids, which are known for their potent antioxidant and anti-inflammatory properties that bring numerous benefits for reduced risk for cognitive decline. 
Treat your loved ones and cook a charming dinner for two with this Valentine's Day menu.   
Even with our best efforts, most of us do not get the daily nutrients we need for long-term brain health. RELEVATE is designed upon the MIND diet , and includes 17 nutrients from 8 different food groups that the people with the healthiest brains eat regularly. RELEVATE fills the gaps where diet falls short, so you can focus on loving others, while equally showing love to your brain. Learn more about RELEVATE here.  
---
References
Morris, M. C. et al. MIND diet associated with reduced incidence of Alzheimer's disease. Alzheimer's Dement. 11, 1007–1014 (2015).

Morris MC, Evans DA, Bienias JL, et al. Consumption of Fish and n-3 Fatty Acids and Risk of Incident Alzheimer Disease. Arch Neurol. 2003;60(7):940–946. doi:10.1001/archneur.60.7.940

Chauhan, Abha, and Ved Chauhan. "Beneficial Effects of Walnuts on Cognition and Brain Health."

Nutrients

vol. 12,2 550. 20 Feb. 2020, doi:10.3390/nu12020550