Brain Healthy Snacks for Your Next Road Trip or Vacation
July 25, 2022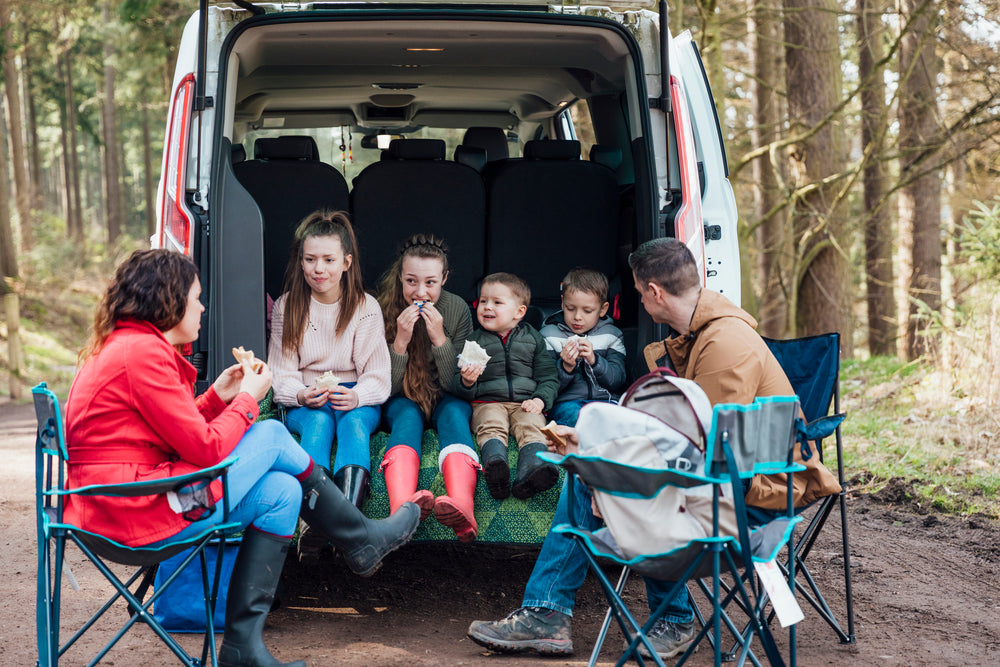 If you are heading out for a summer road trip or vacation, you'll need some snacks along the way, and including healthy options will ensure you are taking care of your brain and feeling your best while out of town. Travel is often a time we indulge on tasty treats (which are ok in moderation), but eating healthy consistently may help to reduce the risk of Alzheimer's,1 so it's important to keep this in mind even during vacation. We've compiled a list of brain healthy snacks that are easy to grab along the road or prepare in advance for your next road trip or airline flight. With a little planning, you'll be feeling your best and fueling your brain with the energy it needs. 
Kale chips – This delicious snack is easy to make and is an excellent source of the flavonols kaempferol and quercetin, which have been shown to reduce one's risk of Alzheimer's by up to 50%!2 Kale also contains magnesium, which lowers inflammation and promotes healthy communication between cells, as well as lutein and zeaxanthin, potent antioxidants which help prevent damage to the brain and are great for eye health. Check out this quick recipe!
Trader Joe's olives (in the sealed packs) – Olives are a great source of antioxidants and anti-inflammatory agents to protect the brain from damage. They contain the antioxidant vitamin E and healthy fats to reduce inflammation.  These packs include one serving and can easily fit into your backpack or purse. 
Guacamole cups with veggies or veggie chips – Enjoy these mini guacamole cups with cut up vegetables like peppers, cucumber, carrots, or baked veggie chips. Avocados are a great source of anti-inflammatory agents like healthy fats, magnesium, and vitamin E. They also contain fiber to support digestive health and veggies provide polyphenols like kaempferol, myricetin, and quercetin which are potent antioxidant and anti-inflammatory agents, that help remove toxins from the brain.  
Trail mix – Look for a mix of nuts, seeds, and dried fruits, and optionally dark chocolate avoid the M&M's).  This snack is high in protein, fiber, and healthy fats, and includes vitamins and nutrients like magnesium, vitamin E, and omega-3s which support brain health by reducing damage and promoting signaling between cells. Try this berry trail mix from Whole Foods. 
Dried seaweed – Seaweed is a good source of protein and fiber, and contains iron and magnesium as well as B vitamins which help prevent the toxic buildup of harmful molecules in the brain. Try this brand of organic seaweed snacks. 
Individual hummus containers with veggies – Hummus is a delicious snack with veggies like carrots, peppers, radishes, or celery. This combination  is a great source of plant-based protein and gut-healthy fiber, as well as antioxidants like vitamin A, vitamin C, and lutein. 
Hard boiled eggs – Eggs offer protein, iron, and vitamin B12 to support the breakdown of harmful molecules.  They also include the antioxidants lutein and zeaxanthin. Hard boiled eggs are easy to make ahead and keep in your cooler or buy them premade at Whole Foods or Costco. 
Lentil muffins – Try this lentil and carrot muffin recipe! Lentils provide fiber and important brain-healthy nutrients like anti-inflammatory magnesium and antioxidative vitamin E.  Carrots are a great source of lutein and zeaxanthin, which are known for their antioxidative and anti-inflammatory qualities in the eyes and brain.  
Greek yogurt with blueberries – Plain Greek yogurt is a good source of protein and vitamin B12. Blueberries add flavor and contain antioxidant and anti-inflammatory polyphenols including anthocyanins, pterostilbene, myricetin, and quercetin. In fact, blueberries have been shown to improve memory in older adults!3  Make sure to check the label – many leading yogurt brands include upwards of 30g of sugar in one serving (that's more than 7 teaspoons of sugar!) 
Justin's almond butter pouches with celery or apple - Almonds are a solid source of vitamin E, magnesium, and healthy fats, which help fight inflammation. Apples provide antioxidant and anti-inflammatory effects from quercetin, anthocyanins and catechins.  
Olive oil popcorn from Trader Joe's – This snack simply contains popcorn, olive oil, and salt. Corn provides B vitamins, minerals, and antioxidant polyphenols, and the extra virgin olive oil is a good source of vitamin E, vitamin K, and healthy fats. 
Dark chocolate – If you need a sweet treat while on the road, opt for dark chocolate, as it's lower in sugar than other desserts and is actually beneficial for the brain.  It provides antioxidant flavonoids, iron, zinc, and magnesium. In fact, cocoa powder has neuroprotective and preventive effects on Alzheimer's.4 Hu chocolate is a great vegan chocolate brand made with only high-quality ingredients.  
Remembars – These plant-based protein bars are designed for brain health and packed with fiber and protein and nutrients like omega-3s, vitamin E, and probiotics which are components of the MIND diet, a diet associated with a reduced risk of Alzheimer's Disease.5 
Edamame – Edamame is rich in fiber and protein, as well as anti-inflammatory nutrients like magnesium, folate, and vitamin K. Buy in shelled form or unshelled form for easy snacking.  
Dark chocolate granola – This delicious recipe for contains brain-healthy nutrients like theobromine which increases blood flow and anti-inflammatory flavonoids.  Make ahead before your trip and enjoy with yogurt or by itself.   
Mixed nuts – Nuts are a satisfying snack that contain anti-inflammatory magnesium, zinc, vitamin E, and omega-3 fats. Opt for lightly salted, or make your own, like this roasted nuts recipe. 
Freeze-dried beets – Beet chips are a delicious alternative to potato chips. They are rich in fiber, iron, vitamin A, as well as polyphenols which act as antioxidants to protect your brain cells from damage. 
Clementines and apples – Fruits are a refreshing and easy snack to take on the road. Clementines are often known as a source of vitamin C, but they also provide fiber, carotenoids, and flavonoids which all support a healthy brain by protecting against damage. Apples are also a good source of fiber, as well as vitamin A and quercetin. 
Dates – Dried dates are a sweet treat rich in brain-supporting fiber, flavonoids, and carotenoids. In fact, dates are being studied for their role in improving memory and learning.6 
Roasted chickpeas – Chickpeas are a great source of protein and fiber and roasted chickpeas are a satiating snack for the road. Buy at Whole Foods or make your own with this simple recipe. Feel free to play around with your favorite spices for different flavors! 
Protein balls or energy bites – Prep these delicious bite-sized snacks with nuts, seeds, dried fruit, oats, dates, or any other ingredient you enjoy. Buy them premade, or make your own with this yummy recipe. They contain protein, healthy fats, vitamin E, and magnesium, which serve as anti-inflammatory agents. 
Chia seed parfaits or overnight oats – These are a great option to make ahead for an easy breakfast on the road. You can find premade parfaits at Whole Foods. Chia seeds are a great source of fiber, omega-3s, vitamin B3, and magnesium, and using nut milk offers healthy fats and vitamin E. 
Stuffed dates – Try this recipe with nut butter and a few chocolate chips. It's a great sweet treat that offers the brain health benefits of fiber, protein, magnesium, vitamin E, and polyphenols. 
Banana chips – These are a convenient snack to bring on the road and can be bought at most grocery stores. Banana chips contain fiber, potassium, and vitamin B6. 
Although it can be difficult to eat well on the road, a little planning can go a long way. From breakfast to late-night desserts, these snacks have got you covered for brain-healthy eating while traveling! 
---
References
Morris, M. C., Tangney, C. C., Wang, Y., Sacks, F. M., Bennett, D. A., and Aggarwal, N. T., MIND diet associated with reduced incidence of Alzheimer's disease. Alzheimer's Dement., 2015, 11, 1007–1014.

Holland, T. M., Agarwal, P., Wang, Y., et al., Dietary flavonols and risk of Alzheimer dementia. Neurology, 2020, 94, e1749–e1756.

Krikorian, R., Shidler, M. D., Nash, T. A., et al., Blueberry Supplementation Improves Memory in Older Adults. J. Agric. Food Chem., 2010, 58, 3996–4000.

Cimini, A., Gentile, R., D'Angelo, B., et al., Cocoa powder triggers neuroprotective and preventive effects in a human Alzheimer's disease model by modulating BDNF signaling pathway. J. Cell. Biochem., 2013, 114, 2209–2220.

Morris, M. C., Tangney, C. C., Wang, Y., Sacks, F. M., Bennett, D. A., and Aggarwal, N. T., MIND diet associated with reduced incidence of Alzheimer's disease. Alzheimer's Dement., 2015, 11, 1007–1014.

Subash, S., Essa, M. M., Braidy, N., et al., Diet rich in date palm fruits improves memory, learning and reduces beta amyloid in transgenic mouse model of Alzheimer's disease. J. Ayurveda Integr. Med., 2015, 6, 111–120.